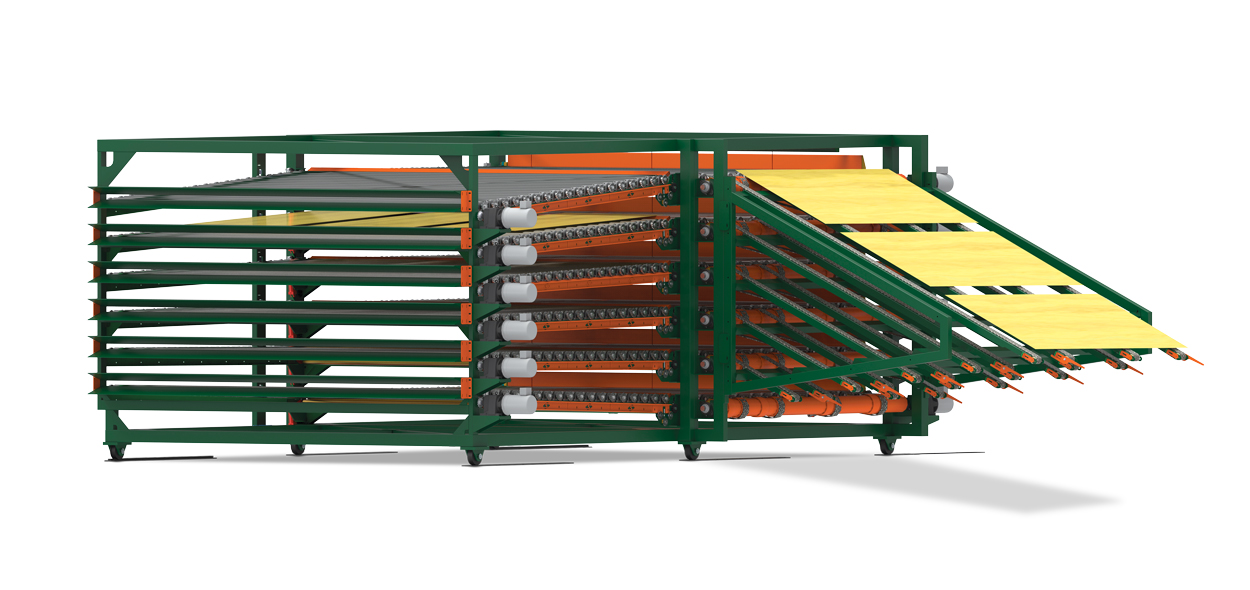 Right-Angle Unloader
The Sweed Right-Angle Unloader quickly and systematically unloads the dryer and changes the direction of the veneer flow into the dry-veneer stacker.
Eliminating the use of a belted apron and cross transfer chains, Sweed's Right-Angle Unloader is an automated unloading conveyance process with superior presentation to the stacker, requiring no labor for operation.
Operating independently from the dryer, Sweed's Right-Angle Unloader detects veneer via photo-eyes and smoothly transfers sheets to an even-ending jump-belt section prior to offloading to the veneer stacker infeed. It is simply the smoothest dryer unloading option in the industry today. The compact footprint is also ideal for accommodating tight spaces.
Features and Benefits
Precision delivery straight and true at today's incredibly high speeds

Requires less plant space than a conventional straight-out unloader

Gently straightens veneer

Sheet damage is virtually eliminated

Left-hand or right-hand drive/exit

Handles 4-foot to 10-foot veneer lengths

Photo eye sheet detection system

Adapts to any veneer dryer

Quality craftsmanship

One-on-one sales consultations to ensure satisfaction

Superior customer service and technical support

Made and supported in the USA