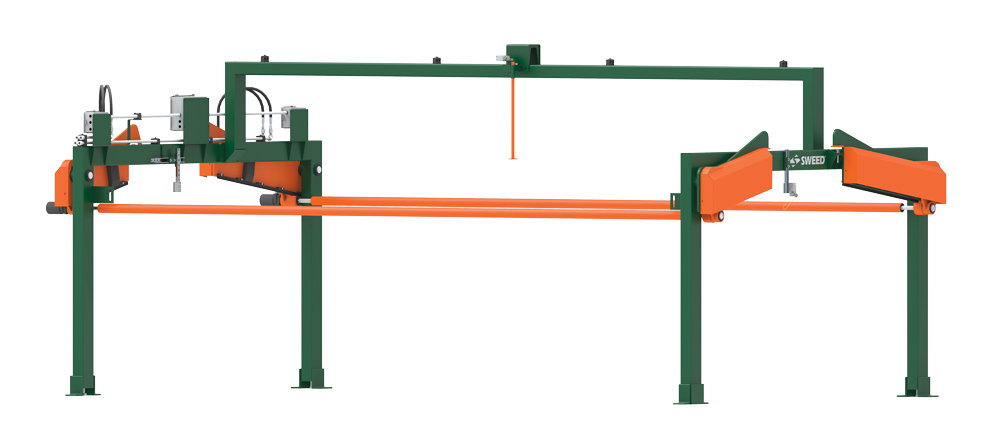 Accumatic
The Sweed Accumatic will dramatically increase dryer production by keeping a consistent flow of veneer available for feeding.
Sweed's unique and innovative accumulator design includes direct-driven rolls powered by hydraulic motors and guided by a rack and pinion. The timing of the arms is accomplished by using keyless locking devices in the pinion for easy adjustment when needed.
The Accumatic's roll position is also adjustable via limit switches to maximize efficiency of the arm location relative to the load. Heavy-duty cam followers support the Accumatic arms as they move in and out of loads, and Sweed can equip the Accumatic with either a touch screen or push-button controls.
Sweed's innovative design maintains the crash proof operation of the rolls, while the change to the direct drive results in fewer moving parts and less required maintenance.
The end result is a unit that maximizes productivity, operation, and maintenance ease. When incorporated into a three-shift dryer operation, the Sweed Accumatic can easily pay for itself in four to six months.
Features and Benefits
First and best accumulator manufactured

Accommodates 4' x 8' and 4' x 4'; custom upon request

Simple to install and operate

One-on-one sales consultations to ensure satisfaction

Superior customer service and technical support

Quality craftsmanship

Made and supported in the USA