The development of Sweed's Core Values was a collaborative effort among our entire team. From the sales department to shipping, and all departments in between, the Core Values are the foundation for all of our actions and can be summed up in the acronym R.E.A.C.H.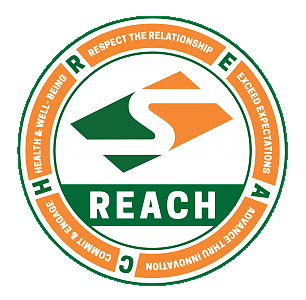 Respect the Relationship
We realize that relationships are at the heart of what we do. We understand there is cause and effect of our interactions with each other and with our customers; we take this seriously. By being respectful in every interaction, we build trust and integrity, the cornerstones of long-term relationships.
Exceed Expectations
We understand our customers expect us to produce quality results, and we work to exceed those expectations.
Advance through Innovation
Innovation is our lifeblood. Our continued success demands that we always find ways to improve our products and our processes. Innovation and drive for growth are part of our DNA – we challenge the status quo and look for improvement.
Commit and Engage
We are driven to provide results and be the best at what we do. We are committed to our customer and to our team.
Health & Well-Being
Our organization is only as strong as our greatest resource – our people. Our success depends on the well-being of our people. We make sure we are taking care: being safe and promoting a healthy organization at every level.
These fundamental beliefs assist us in reaching our goals and represent our highest priorities and driving forces. R.E.A.C.H. is the heart of Sweed and its employees and is the reason customers turn to us first for a trusted solution.